Help Forgotten Felines and Fidos, Inc. Earn FREE Cat Litter, and Get 50 FREE Paw Points® for Yourself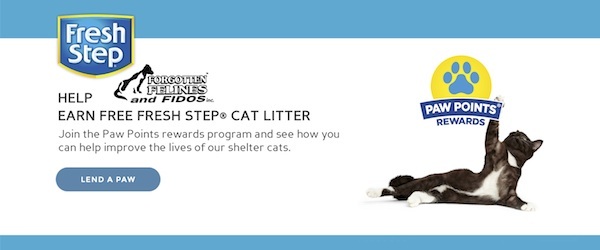 Hey Animal Lover,
Fresh Step is helping us in our effort to find every cat a forever home. In an ongoing effort, they donate litter and rewards to animal shelters and rescues like ours. Want to get involved (and maybe get a little something for yourself, too)?
It's easy:
1.Visit FreshStep.com and join the Paw Points® Rewards program: Every code you enter adds to your rewards—and automatically means another contribution to cat shelters.
2.Use our unique code, and you'll get 50 bonus points—and we will too: Just enter this code: SHELTERBONUS1258 and we'll both benefit. It's a win-win situation.
Get Started Today