Fostering a cat or kitten(s) is a fun and rewarding job that helps to ensure the animal's adoption. Fostering involves accepting the feline(s) into your home,  and socializing it to "home life". By providing a secure and loving environment to your foster, you teach it to trust and love human companionship – while preparing it for a wonderful, forever home. This is an important and gratifying ways to volunteer your time.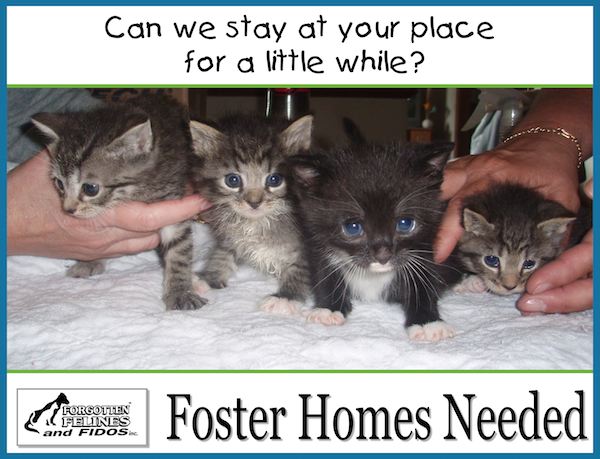 Fostering kittens for the shelter requires a commitment.
Kittens need to be brought to the shelter for health checks and shots when our veterinarian is there, so please consider driving distance.

A separate room is needed to keep your foster kittens separate from your family pets. Our foster coordinator may do a home visit to help you get ready for the foster kittens.

The shelter will provide a cage, food, litter and health check at the shelter when our veterinarian is there.

Kittens will need to be brought to the shelter for Saturday adoption hours (12-4pm) once they are ready for adoption. This also gives you an opportunity to speak with prospective adoptive families.

Call 610-760-9009, press 2 OR send an email to fffadoption@verizon.net to discuss becoming one of our foster families.
We receive numerous calls everyday from individuals reporting strays and needing homes for cats that they are unable to keep…more requests than we can reasonably handle!!