The mission of Forgotten Felines and Fidos, Inc. a nonprofit, all-volunteer, no-kill animal organization in Germansville, Pa., is to reduce the number of homeless, unwanted cats by offering a low-cost spay/neuter program and by working with various communities to help control the feline population.
We provide a supportive environment for all of the cats at our shelter until they can be matched with their forever homes, or shelter them for the rest of their lives, if necessary. In addition, we provide medical care for our sick and injured felines in a nurturing environment.
We are committed to educating feral colony caretakers and the general public on the humane treatment of feral cats. We offer a trap-neuter-release (TNR) program to encourage spaying/neutering and returning feral cats to their natural habitat.
Marge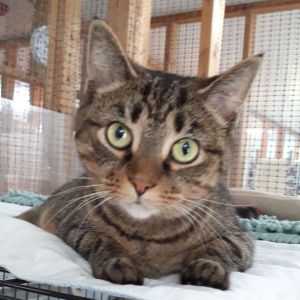 Marge was one of three cats relinquished by owner when she had to move to housing who would not allow pets. Marge was shy when she first came to us, but she has come out of her shell and showed us her sweet personality. She likes rubbing up against you… View full description »